A Statement from Burkina Faso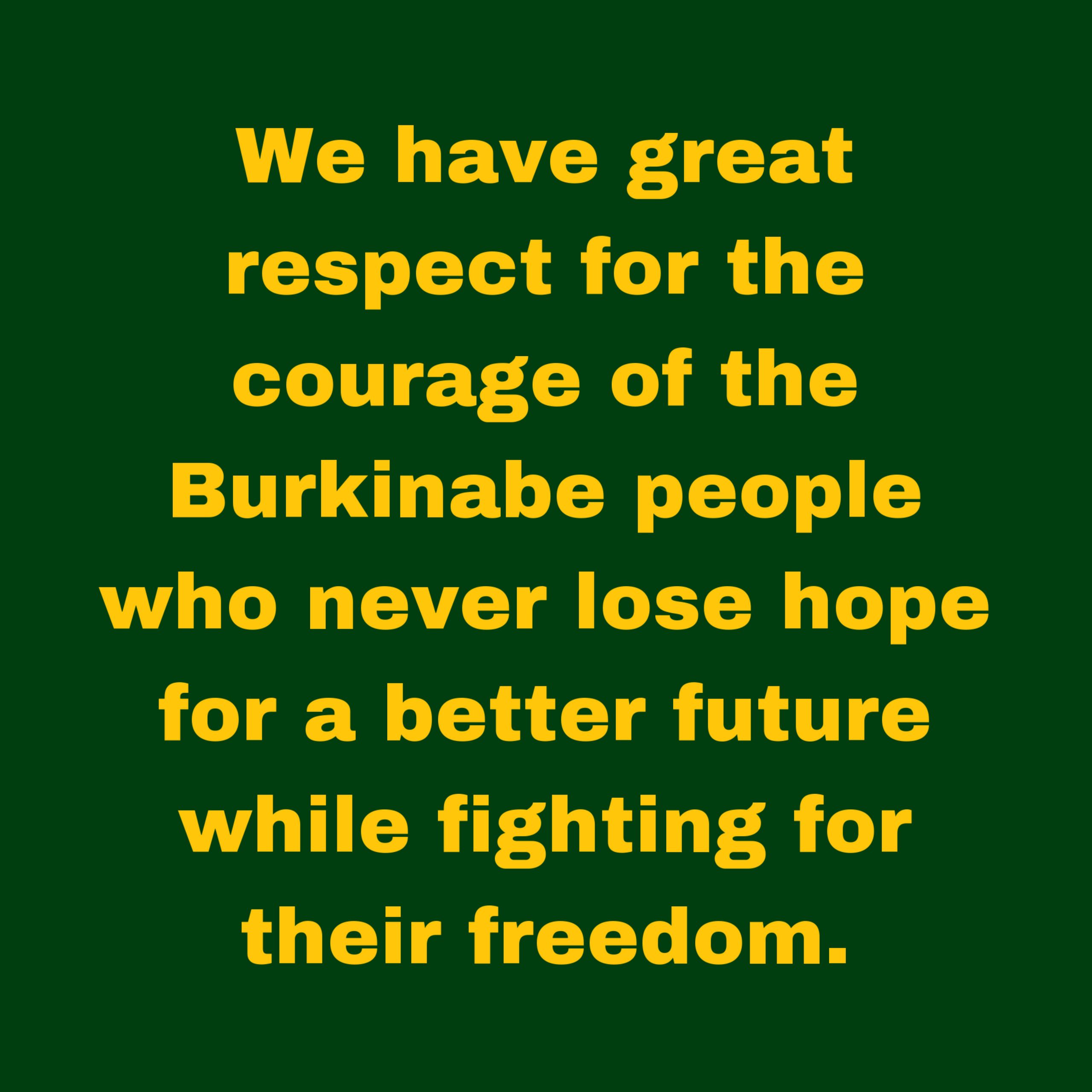 In the past few days, more and more images and reports of protests and unrest in Burkina Faso have reached the German media landscape. The political situation in Burkina Faso is very complex, but these images and reports are often not put into the right context. One of the leitmotifs of Operndorf Afrika is to show a new and more differentiated image of Africa. Therefore, it is particularly important to us to give a voice to the people of Burkina Faso.
We have the deepest respect for the way our team is dealing with the current events in Burkina Faso, how our staff is carrying on and how they opened the new school year on Monday. Especially now, they remain optimistic and believe in the strength of the Burkinabe people. Therefore it's even more important that we show solidarity and continue to support the country of the honourable people. Also by sharing their opinion: 
October 30, 2014, the National Assembly of Burkina Faso is invaded by demonstrators to block the modification of Article 37. If this article was amended, Blaise Compaoré, in power for 27 years, could stand for re-election in 2015. The demonstrations were enough to overthrow Blaise Compaoré's power: he left Ouagadougou, exfiltrated by France, and went to Côte d'Ivoire where he still lives.
Since this shocking departure, Burkina Faso has not known a real peace, except for the period of transition under Michel Kafando, which also experienced a failed coup d'état by General Diendéré. On December 29, 2015, Rock Marc Christian Kaboré was sworn in as president and on January 15, 2016, terrorists attacked Burkina Faso for the first time, targeting a café "Le Capuccino" and the Splendide Hotel. 
Since that date, the country has suffered regular attacks with fatalities. In November 2021, civil society organizations demonstrated their frustration with marches. On January 24, 2022, the military overthrew Rock's government, which was deemed incapable of dealing with the security crisis. Their leader, Paul Sandaogo Damiba, took the helm of the Patriotic Movement for Safeguard and Restoration (MPSR) and proclaimed himself president.  Eight months after the junta took power, terrorists continue to spread terror. The people of Djibo are crying out for food. On September 26, 2022, a convoy of several trucks loaded with foodstuffs headed for Djibo was attacked at Gaskindé. The death toll was high, with 27 soldiers killed, according to the latest report from the army on Tuesday, October 4. In the aftermath of the attack, there was talk of 11 soldiers being killed. This attack is too much: demonstrators in the street are demanding the resignation of President Damiba and cooperation with Russia to end terrorism.
In short, this historical reminder is necessary for me to describe the growing anti-French sentiment in Burkina Faso. Many Burkinabè will say that they are not against the French, but they are against French policy in Africa. This feeling is increasingly shared in the sub-region, particularly in Mali, which has already demanded that France leave its vast territory. How can France, with all its "latest generation" logistics, not be able to help the Burkinabe army flush out the terrorists and neutralize them? This is a question that is on the minds of more than one Burkinabè. In this case, let her leave and let Russia, which is already collaborating with Mali, support the efforts of the Burkinabe army to defeat the terrorist hydra. We have not seen any convincing results with the creation of the G5 Sahel. The G5 Sahel includes Mauritania, Mali, Niger, Chad and Burkina Faso. But we say "G5 Sahel", what is France doing in the G5 Sahel? Is it doing business as some people think? In any case, there has been less and less talk of the G5 Sahel since Mali slammed its doors. Living in West Africa and following the news of the countries colonized by France, the feeling that colonization has just changed its face is real. Indeed, after the death of Idriss Debi Itno, Mahamet Deby, Idriss Deby's son, was chosen to head the transitional military council in Chad with the "blessing" of France.  French President Emmanuel Macron attended his inauguration. If it were under other skies, France would have cried coup d'état and violation of democracy. Thus a monarchical regime is being established in Chad under the complicit gaze of France. Perhaps the son is his business.
In 2011, France participated in the forced eviction of Laurent Gbagbo in Cote d'Ivoire. The pro-Ouattara, supported by UNOCI and the French Licorne force, arrested Laurent Gbagbo, who until then had claimed victory in the presidential elections.  The rest is known. He was sent to the Hague for crimes that he certainly did not commit alone. Laurent Gbagbo was said to be a nationalist. Several companies would have been nationalized under his reign. But when one knows the economic interests of France in Côte d'Ivoire, one might ask if France has an interest in a nationalist taking power in that country?
Let's go back to Burkina Faso. According to rumors, Paul Henri Sandaogo Damiba was not sleeping in the presidency. Instead, he was said to have taken up residence in the French military camp at Kamboinsi. He was guarded by the French, as many claim. How can you oppose the one who provides your security if this is true? Blaise Compaoré who was exfiltrated by France in 2014, is invited by Damiba to participate in a national reconciliation process. And yet, he was sentenced to life imprisonment by the Burkinabe justice system. Blaise came and went in Côte d'Ivoire without being bothered thanks to Damiba.
Does France really want to cut the umbilical cord with its former colonies? If not, why not? Why doesn't France stop interfering in the political affairs of its former colonies like England? As Charles De Gaulles said, "France does not have friends, it has interests", is the Sahel of great interest to France? If so, what does France want in the Sahel to refuse to leave it?  These are all questions that I hear here and there and that make me think. Even in France, voices are being raised to criticize its conduct in its ex-colonies. What about the FCFA? Many people do not understand why the money of former French colonies continues to be made in France. Where is our sovereignty after all?
Mali no longer wants France, it is withdrawing to Niger. In Burkina Faso, young people say they no longer want France. They are asking for Russian support to overcome terrorism. The anti-French sentiment is very real. The reasons behind it are diverse.
Marie Laurentine Bayala, Burkinabe citizen and employee of the Opera Village Africa