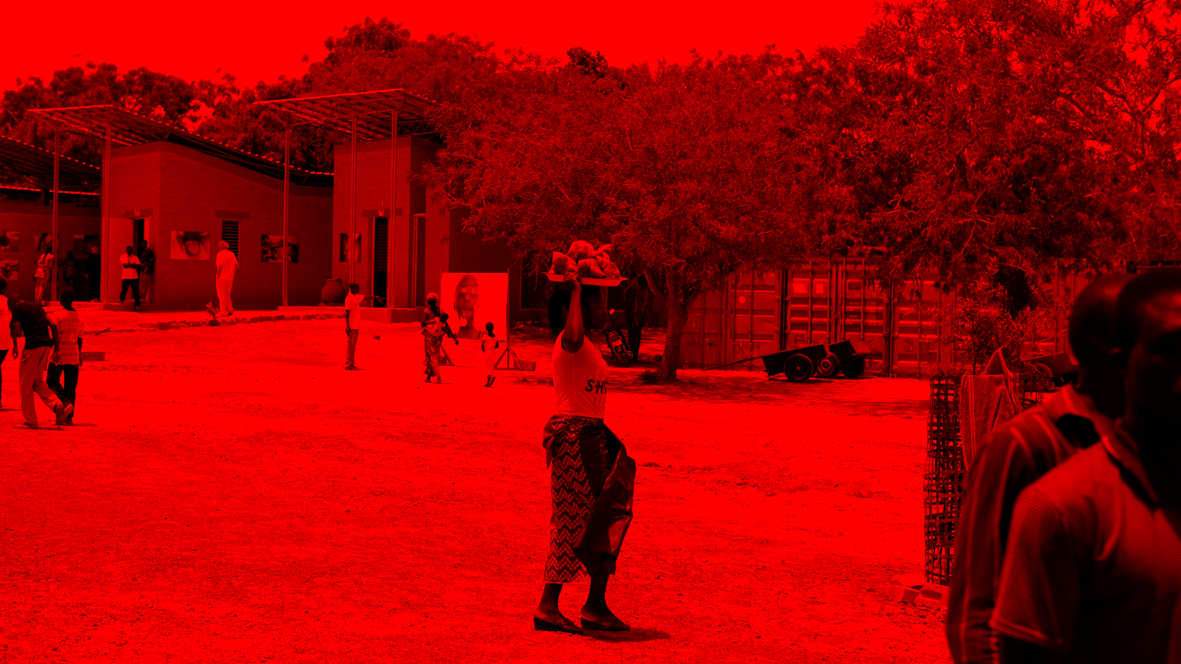 Artist-in-Residence 2021
Artist-in-Residence
2021
Nezaket Ekici • Abrie Fourie • Tosin Otitoju

Curator
AKINBODE AKINBIYI (* 1946 in Oxford) is a chronicler of daily life who is more interested in "everydaylifeness" rather than the everyday. He has been working as a photographer and author since the early 1970s. His artistic focus is on the large urban agglomerations and megacities, especially on the African continent. He moves like a flaneur on main and side streets through the everyday life of these cities, their shopping centers and amusement facilities, in order to make recordings that bring the vibrancy of these conflict-laden rooms to life. Akinbiyi turns his attention to the rituals of everyday politics, spirituality and humanity beyond the shiny surfaces of constructed identities. He seeks, consciously or unconsciously, for breaks in our everyday life. His work is exhibited and published worldwide. In 2016 he was awarded the Goethe Medal. Most recently, his work was on view in a monographic exhibition at the Gropius Bau Berlin (February 7th – July 19th, 2020). He lives and works in Berlin.
Akinbode on his selection for this year's Artist-In-Residence-Program
The fundamental precept is that of an open-ended conversation, of what is opera, of what this art form can be out in the sparse landscape of the Sahel. Open-ended voices speaking out and stating their ideas, visions, understandings. Song, theatre, intricate scenarios, bodies moving gracefully in the afternoon heat of the dusty, rock strewn paths, performative masquerades gesticulating into tightly strung marionettes, dangling exquisitely on improvised stages.
Baobab trees asserting their presence, demanding recognition of underground currents and the upward thrusting weave of their branches. The opera is all of these and much, much more, an inclusive will of expression, formed out from incalculable sources.
The residency at the Village Opera is an essential aspect of this constantly ongoing conversation, creative personalities engaging intimately with the immediate surroundings, the vibrancy of the deeply embedded Sahel. This engagement too is open-ended, can evolve in any which way is desired. Important is the stay at the village, imbibing the everyday of the small community. The clinic, the school, the few inhabitants living in the spaciously designed single units.  There is a sense of the round, of entering into a large, widely spread flat amphitheatre, the dwelling units looking out at each other from the near distance.
Animal sounds, birdsong envelope the round, draw out into the immediate landscape, rocky outcrops, sparse vegetation. These are the fundaments of the operatic chords, the beginnings of creative impulses that ideally should engage the invited residents. Conversations that go on well into the night, into the late hours of serendipity and happenstance. The village is quiet then, a stillness that still resonates, that suddenly at dawn breaks out in resplendent birdsong, filling the air with their operatic arias. 
It is when the conversation is mutual, both sides listening carefully to each other, taking in the ideas and precepts coming in from the other, that the residency has achieved a certain goal. On the one side, the endless stream of creativity and will to form, on the other, and coming out intensely from the sahelian landscape, her deeply layered strata of resonances and open-ended operatic chords. A vibrancy that embraces overwhelmingly those prepared to open up and listen in.

NEZAKET EKICI (* 1970 in Kirsehir, Turkey) is a performance artist living and working in Germany. Ekici's impressive and energetic happenings combine humour with moments of pain and always demand a high level of physical endurance. Each performance is based on a task, which Ekici attempts again and again until she reaches a set goal or reaches a level of complete exhaustion. Although each performance is planned in advance, factors beyond the artist's control affect its realisation to allow a place for risk and the possibility of failure. Ekici's videos, installations and performances combine controversial content with aestheticising representation. A central role in her work is the tension between her Turkish origins and upbringing on the one hand and her living environment in Germany.
After graduating in sculpture from the Academy of Fine Arts in Munich, she studied art at the Hochschule für bildende Künste in Braunschweig and completed her master's degree under her professor Marina Abramovic in 2004. She had her first retrospective at the Marta Herfrod in 2011/12. She was a fellow at the Tarabya Cultural Academy in Istanbul in 2013 and a fellow at the German Academy Villa Massimo in Rome in 2016. In 2018 she received the Paula Modersohn-Becker Art Prize, and in 2020 she was selected for the Berlin Senate Cultural Exchange Scholarship to participate in the ISCP residency programme in New York. Recent solo exhibitions include Haus am Waldsee, Berlin (2015), Villa Massimo, KAS Foundation Berlin (both 2017) and Neue Kunstverein Gießen (2020).
Nezaket about her participation in the Opera Village Residency
I find Africa very fascinating. I have already had the opportunity to develop art projects in Ghana and Nigeria on themes such as food, religion and dance. I am even more excited to get to know Burkina Faso, a new African country – to get to know the country, the people, the culture but especially the village Opera.
During my stay as artist-in-residence in the Opera Village, I would especially like to work with the local population. It is a great opportunity for me to get an insight into the school and the hospital. It would be wonderful to do a performance workshop with the children, the staff and also with the patients if possible, and to develop a performance with them. I am looking forward to getting to know the cultural scene in Burkina Faso. I would like to design and create costumes with local designers, meet performing artists, exchange with visual artists, dancers and develop projects together.
I am very grateful to the organization and the people in charge of the opera village for this opportunity!

ABRIE FOURIE (*1969 in Petroria) is a South African photographer. Born in Petroria, he studied and worked there until he emigrated to Germany in 2007. Today he lives and works in Berlin. In addition to his work as a photographer, Fourie is also active as a curator and lecturer. For example, he has been the curator of the Modern Art Projects South Africa MAP-SOUTHAFRICA.ORG since 2005.
Fourie's work is characterized by his documentary, spontaneous and sober approach to the moments and circumstances of everyday life. Many of his photographs have the appearance of snapshots, others show deserted places in their bare existence. Fourie finds a charm in the plastic qualities of his subjects, which, although inanimate objects, always have a unique form.
Unique exhibitions of his work have been held at the Museum for African Art, New York (2004) and at where-we-r.com, Forum d'art Contemporain, Sierre, Switzerland (2006), among others. Recent exhibitions include the long-term project OBLIQUE, presented at Haus der Kulturen der Welt, Berlin (2012), Johannesburg Art Gallery, South Africa (2012), Iwalewhaus Bayreuth (2012), SCAD Atlanta (2014) and Fried Contemporary in Pretoria (2016).
Abrie about his participation in the Opera Village Residency
I am honored to be invited to this year's Opera Africa Village Resident Artist Program, and I look forward to being present, embodied and inspired as a resident artist at the village. During my stay, I will continue my work around 'walking', drawing on new approaches and awarenesses that will emerge from my interactions and connections with this place.

TOSIN OTITOJU (* in Lagos) is a writer, actress and blogger. In addition to publishing numerous collections of poetry and short stories, she has published the novel "Three Sisters", which tells the story of three women in the countryside. She has also been involved in several theatre productions since 2002, both as an actress on stage and as a costume designer behind the scenes. Since 2004, she has started several blogs, especially for her other passions: mathematics and teaching. In 2011, she was an Ebedi International Residency Fellow. She lives and works mainly in Lagos.
Tosin about her participation in the Opera Village Residency
During the residency I hope to develop projects for the near future, including poems for my next collection entitled 'Velvet', in which I reflect on aesthetics and texture, and a few chapters of the novel 'YA', which is about the lives of four young people today. I very much hope to involve the children and the surrounding community in my work, and I would like to explore the possibilities of the Village Opera library. Thank you so much for inviting me to Village Opera! I am really looking forward to it.

The Artist-in-Residence 2021 was created with the kind support of: