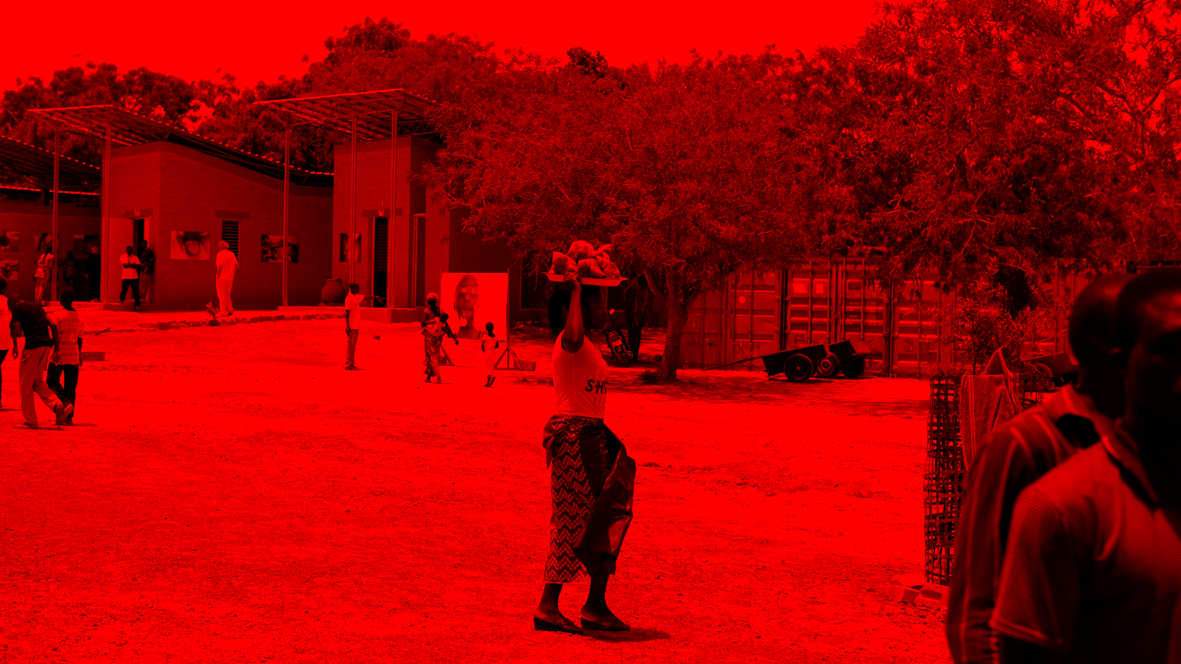 Artist-in-Residence 2019
Artist-in-Residence
2019
Hervé Humbert • Aguibou Bougobali Sanou • Sylvain Dando Paré

Hervé Humbert (born in 1968) graduated from the Superior Institute of Fine Arts in Besançon in 1994, and was selected for post-graduate studies at the Marseille-Méditerranée School of Art and Design in 1994/1995. He lives and works in Berlin since 2005.
In his work, Humbert has been interested for over 10 years in the boundaries and intersections between sculpture, design and interior architecture.
He thinks it is undeniable that the art object is a domestic object among everyday objects. Based on this hypothesis, he tries to create a global and open work.
Hervé Humbert about his participation in the
Operndorf-Residence
This residence will be the time of the discovery: of a continent, of its inhabitants and their history and of course of the meeting with the villagers and artists in residence, with whom I wish to see the birth of collaborations.
I want to focus on the soil of Burkina Faso and more generally African soil that contains the origins of humanity. I want to think about a common space where we can meet, gather, at the very place where everything began.

Winner of the highly selective and prestigious US State Department Scholarship Fulbright, semi-finalist of 'Africa's Got Talent' in 2016, dancer and choreographer Aguibou Bougobali Sanou (known as 'Bougobali') hails from Burkina Faso. He trained with choreographers and theatre directors such as Salia Sanou, Carolyn Carlson, Thierry de Mey, Luca Fusi GM, Régine Chopinot Alexandre de la Caffinière and has won several choreographic awards, including the Bronze Medalist of the Francophone Games Nice – France 2013, 2nd prize of SNC 2012, and Delphic Laurel Medal in South Korea in 2009. Aguibou Bougobali Sanou's work is a mix of West African Mandingo traditional dances, Brazilian capoeira and theater expressions drawn from his work with influential European stage directors. His training in African traditional dance in his native country combines with other forms of expression to create a unique theatrical statement. Aguibou created a dance program in a prison in Burkina Faso and worked with more than 70 prisoners in order to help to reenter the society. In the past ten years, Bougobali has developed a dynamic performance and teaching presence which has led him to work assignments in Mexico, Israel, South Korea, India, Indonesia, Morocco, France, France, and the United States.
www.tamadia.com
Aguibou Bougobali Sanou about his participation at
Operndorf-Residence
As long as the ears do not hear, the eyes will not see and the mouth will not tell to the ears.
My ears have heard about Opera Village Operndorf, this wonderful project and residence in the land of upright men. 
I am so delighted and excited to be accepted for a residence there, to commune with this temple and its energy, with its people, children, women, men, to dig, to seek and seek again, to sweat, to question myself and others, to collaborate in order to give birth to an artwork under the testimony of the eyes, which will be able to use the mouth and the body to tell the energies, to tell the story.

Convinced that education is the basis for excellence, Sylvain has started several training courses and workshops, including the Reemdogo regional music course in 2005 and 2006, the ENMD (Malo Vallois) jazz workshop in 2009. In 2011, he enrolled in jazz at the Ecole Nationale de Musique et de Danse de Montreuil, and later at the Conservatoire en cours adultes in the double bass department.
Sylvain has performed on several national and international stages in Africa and Europe with musical greats such as Alpha Blondy, Tiken Jah FACOLY, Cheick Tidiane SECK, Irénée GRANDY, Jean Philippe RIKYEL, Georges OUEDRAOGO, Alif Naaba, Bil Aka KORA, Roger WANGO, Yldevert MEDA, Luca FUZY, Irène TASSEMBEDO, Salia SANOU and Seydou BORO.
This icon of Burkinabe music has been involved in the recording of several albums as a musician, composer, arranger or musical director, including several soundtracks. Since 2015, he has been the director of the Maison de la Musique Afric Echos (2M-AE), thus taking care of the training of young musical talents from Burkina Faso and other African countries.
Sylvain Dando Paré about his participation at
Operndorf-Residence
Every artist who wants to improve himself must retire to a residence that gives him the necessary peace and quiet. Less than an hour from Ouaga, Operndorf Afrika gives me the peace and inspiration I need and makes me dream more. Without a doubt, Operndorf Afrika is for me the place where every artist wants to free his creative genius. My residency enables me to work very productively with Aguibou Bougobali SANOU on his next dance, cooking and music show, but also to create new musical universes in my personal projects, and above all to do nightly research with Aguibou and Domba SANOU. I am very happy to make my residency in Operndorf and hope to come back soon to deepen the work I have started.

The Artist-in-Residence of the year 2019 was realised with the kind support of: