Voo Market Charity Sale for Operndorf Afrika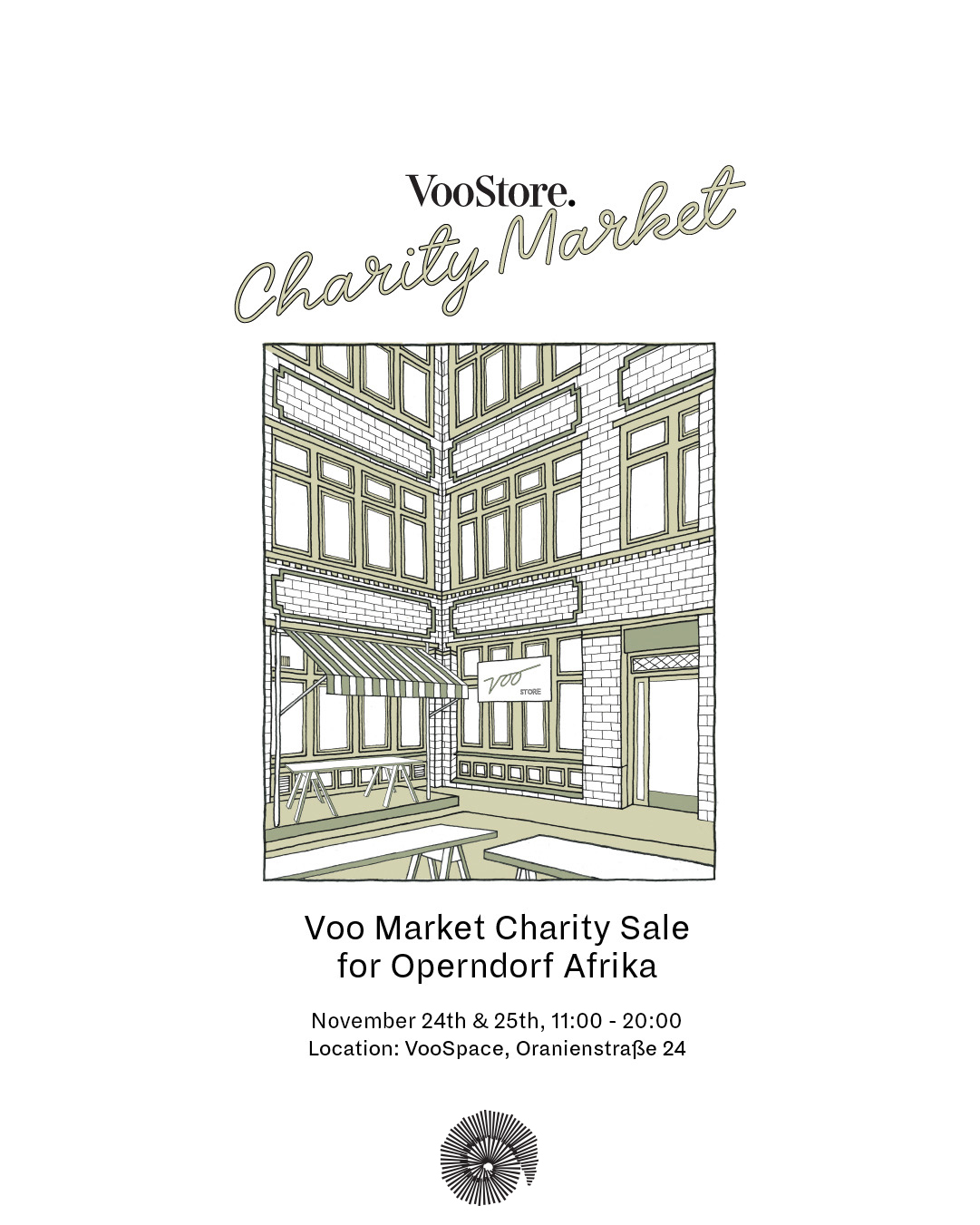 VooStore Berlin and Kiki Albrecht, a charity sale will be organized on November 24 and 25 for the benefit of Opera Village Arica. You will find a high quality selection of various products, including ready-to-wear, shoes, beauty items, accessories, interior, design objects and art. All products will be offered with up to 30% discount and the proceeds will go directly to our projects in Burkina Faso. Friday from 6 p.m. music by Casa Marrone. On Saturday 24.11. you can also dance to music by Alyssa&Gia and Alex Huber with drinks from MOSHxAERIS during the shopping from 2pm. Come by, bring your friends and buy your Christmas gifts for a good cause this year.
A thousand thanks to the participating brands: 032c, Aesop, Aeyde, Agolde, Andreas Murkudis, Andy Wolf Eyewear, Armedangels, Asics, Atelier Oblique, Auping, Chateau Royal, Citizens of Humanity, Closed, Dickies, Drykorn, Dr. Hauschka, Eastpak, Ecoalf, Heymat, Highsnobiety, The Hoxton, House of Tandoor, i+m Naturkosmetik, J.Lindeberg, Jacks Beauty Line, John Frieda, Kasia Kucharska, Kähler Design, Kirsten Landwehr Keramik, Korbo, L:A BRUKET, Lacoste, Levi's, Letherbee, L'Occitane, Love Stories, Lyngby, Made by Hand, Malaikaraiss, Namilia, New Era, Oni Studio, Paloma Wool, PinqPonq, Raus, Romantico Romantico, Royal Fern, Samsonite, Saskia Diez, Sawade, Société Angelique, Studio 163, Unützer, Vans, Vee Collective, Vogue Collection, William Fan, Wrangler, Zellweger Warmwear, XouXou & Voo Store Archive.
We would also like to take this opportunity to thank the agencies BAM, C.Seher, Eva Kaiser, Frauke Rumland PR, Impulse, Press Factory, Haebmau, Highsnobiety, henri+frank public relations, KMB Creative, SchröSchö, Silk Relations and ANDREAS MURKUDIS for their support.
A big thank you also goes to the technical support of the event by EIDOTHECH and LAV Veranstaltungstechnik GmbH  and to the Delikatessen Requisiten Fundus.