PerAnkh: The June Givanni Pan African Cinema Archive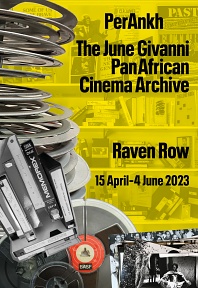 If you're in London do not miss: The current exhibition by the curator of our children's and youth film festival "The Future is Africa" June Givanni at Raven Row Gallery!
The June Givanni PanAfrican Cinema Archive (JGPACA) houses a unique collection of artifacts and archival materials centered on an interest in Pan-African cinema and its relationship to Black British cinema and culture. Over a seven-week period, the exhibition at Raven Row will highlight the history and ideas of African and African diaspora film, commemorate significant events, and bring together the work of filmmakers on a wide range of issues, debates, and interests. ilm curator, activist, and archivist.