Canceled: Africa Bass Culture Festival at Operndorf Afrika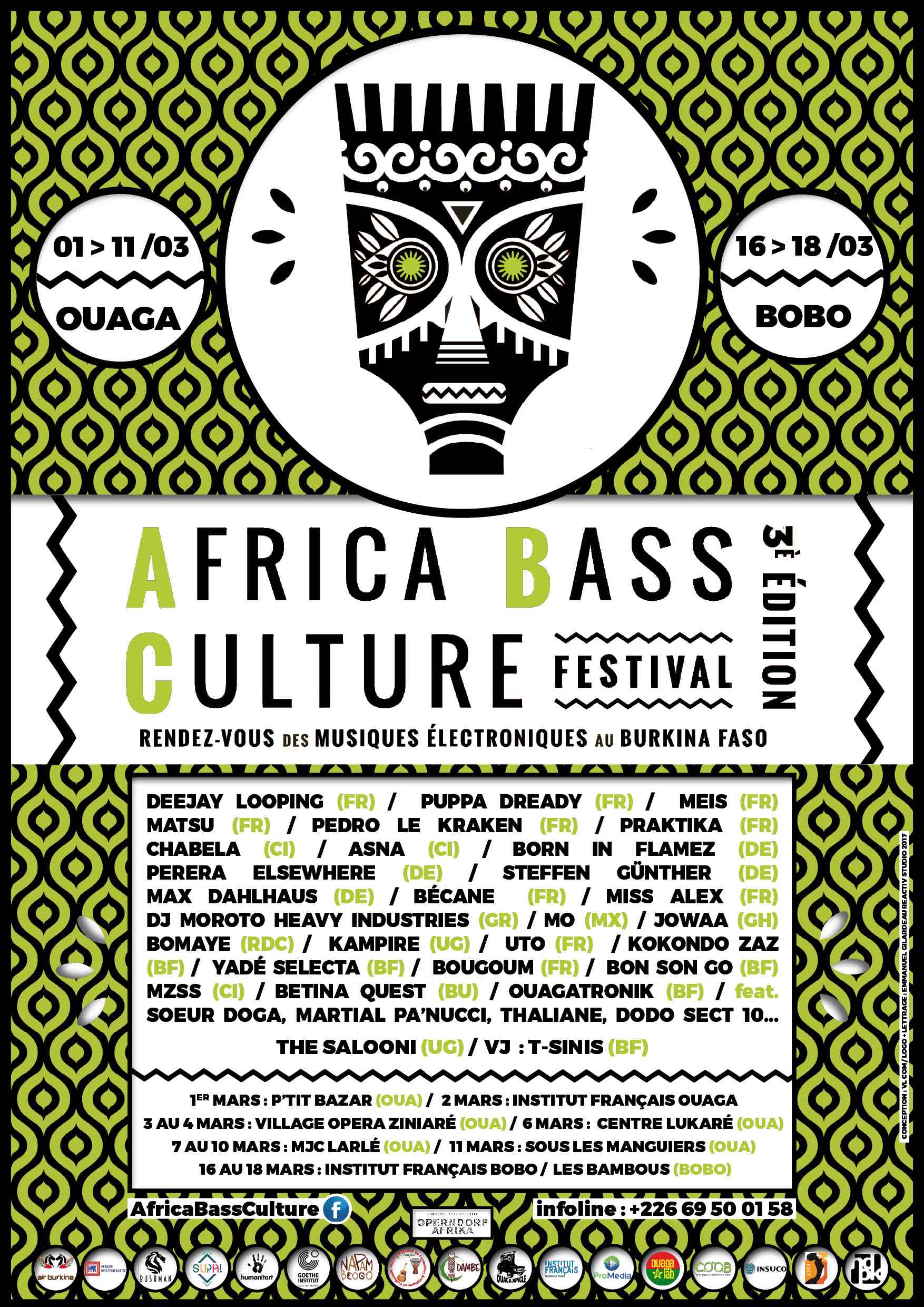 In view of the current events in Burkina Faso on Friday, March 02, 2018, the Africa Bass Culture Festival is interrupting its program this weekend and will not take place at Operndorf Afrika. The festival will continue – more information about the program on the website.
From 1th to the 18th of march, the Africa Bass Culture Festival will present various african and international artists from the field of visual arts and electronic music in Burkina Faso.
In various event formats such as i.a. happenings, workshops or DJ / VJ parties the Festival brings contemporary instruments, traditional music and digital technologies together to show the diversity of artistic expressions. The African Bass Cultures Festival takes place in different unusual locations in Ouagadougou, Bobo Dioulasso and on the weekend from the 3rd to the 4th of march at Operndorf Afrika, with i.a. the collective Ouagatronik (BF), the musician Max Dahlhaus (D) and Bécane (FR).
Admission free.
More about the Line-Up:
Saturday, March 3rd, 2018
5 pm to 6 pm: Chabela (Kamayakoi) (Republic of the Congo)
6 pm to 7 pm: Mydriase (Kamayakoi) (Republic of the Congo)
7 pm to 8 pm: Steffen Günther (Germany)
8 pm to 10:30 pm: Max Dahlhaus (Germany)
10:30 pm to 11:30 pm: Praktika & Kokondo Zaz (France & Burkina Faso)
11:30 pm to 00:30 am: Asna (Kamayakoi) (Republic of the Congo)
00:30 am to 2 am: Bécane (France)
2 am to 5 am: Ouagatronik (Burkina Faso)
Sunday, March 04th, 2018
12 am to 1 pm: Selecta Yadé / Ouagatronik (Burkina Faso)
1 pm to 3 pm: Puppa Dready / Trickart (France)
3 pm to 5 pm: Mo (Mexico)
Please find the Trailer of the Festival here.
Further dates at Operndorf Afrika and International can be found in our event calendar!