Operndorf Afrika is part of the Frieze Projects Program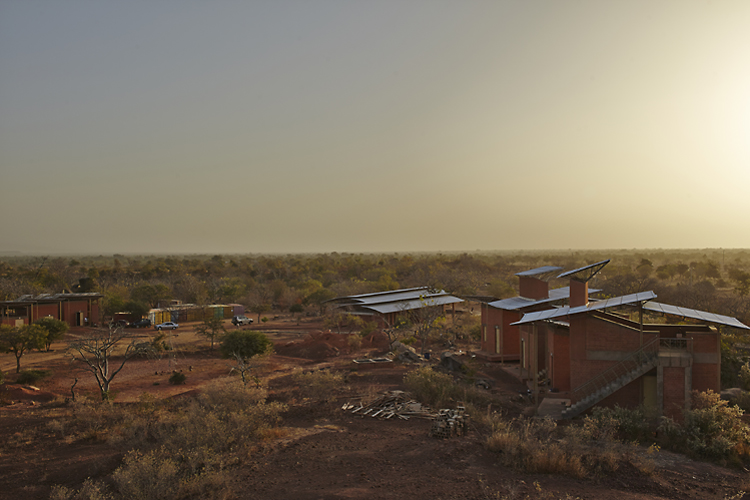 A chance to discover a highly discussed arts project located near Ouagadougou, Burkina Faso Operndorf Afrika (Opera Village Africa) is a highly discussed arts project, initiated by German film and theatre director and artist Christoph Schlingensief (1960–2010) and located near Ouagadougou, the capital city of Burkina Faso. Since 2010 Aino Laberenz is the director of the non-for-profit project.
The presentation will be a multimedia, participatory installation exploring the Operndorf Afrika with various artistic contributions that are all related directly to it. Central to the presentation will be a sculptural piece by Andy Hope 1930 which will serve as a live satellite to the Operndorf Afrika and regular conversations with a Burkinabe artist, actively involved in the project. Cabin-like elements from the stage set of Schlingensief's last theatre piece, Via Intolleranza II (2010), will be used to screen films by burkinabe film makers. For further information see frieze.com.
Christoph Schlingensief (1960–2010, Germany)
The practice of Christoph Schlingensief represented a foray through diverse types of artistic engagement – from filmmaking to activism to acting to directing, and painting to journalism. The multiplicity of materials that this implies has not only blurred the boundaries between traditional artistic categories but has also entailed a deconstruction and reconstruction of visual worlds; absorbing everything into itself, denying linearity and classical narration, the work makes excessive demands on the viewer's sensory abilities. In the effort to summarise Schlingensief's activities, one feels tempted to apply the term 'universal'. Schlingensief died 2010 in Berlin.
Aino Laberenz (b.1981, Finland/Germany). Lives and works in Berlin
After studies in Art History Aino Laberenz worked as a photographer and costume designer for short films and at several theaters including Schauspielhaus Zürich, Volksbühne Berlin, Wiener Burgtheater, Opera of Manaus in Brasil. She worked together with René Pollesch, Schorsch Kamerun and since 2004 with Christoph Schlingensief. In 2005 she was nominated by theater magazine Theater heute as best young costume director. She worked for many years with Schlingensief whom she married in 2009. In 2010 Laberenz took over the management of Festspielhaus Afrika GmbH, continuing Schlingensief's Operndorf Afrika, established in 2009. Furthermore she designed the German pavilion together with Susanne Gaensheimer at the 54th Venice Biennale and was honoured with the Venice Biennale Golden Lion Award. She has been co-curator of the exhibition Christoph Schlingensief at KW Institute for Contemporary Art in Berlin and  MoMa PS1 in New York and did a solo exhibition at the Galerie für Moderne Fotografie Berlin. She is the editor of Christoph Schlingensief's biography Ich weiß ich war's! (I know it was me!), published by Kiepenheuer & Witsch.