Final presentation of the residency artists at the Goethe Institut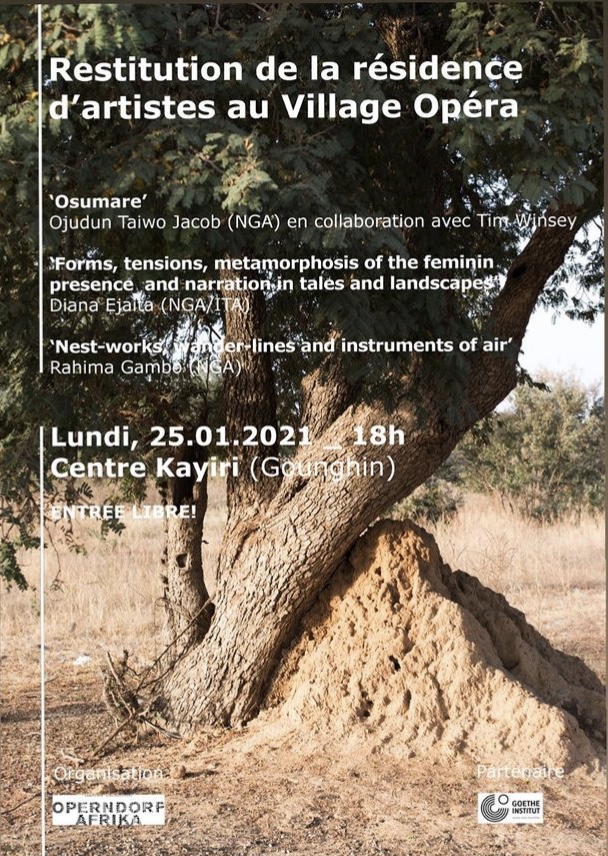 On Monday Jan. 25, our resident artists Diana Ejaita, Rahima Gambo, Taiwo Ojudun Jacob in collaboration with Timbiri Winse present their works (video installation, sculpture and live performance) in Ouagadougou.
The project Ousmare of Taiwo Ojudun Jacob began by examining the Nigerian (Yoruba) traditional belief in equality. Considering the overall view of today's topic, emphasis is placed on local understanding through the interrogation of oral archives to understand knowledge as an automatic generator that extends into daily social activities: In the formation of process and appearance of behavior patterns, values, beliefs, social norms and preferences in social life. A consideration of social dynamics, active living, and relationship building as influenced by traditional trends and the social paradigm. The integration of traditional and contemporary culture as it evolves among new generations leads to *Osumare*, which triggers a fundamental gender balance to further emancipate and illuminate cultural hegemony.